Hardy's RedCat Hot Sauce
|
home




More Information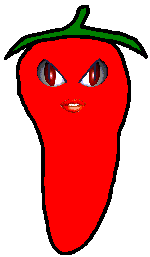 WHY HARDY'S REDCAT HOTSAUCE?
1. We grow our own! A lot of sauces are made with imported pepper mash, but we grow our own Tabasco peppers right here on our farm! They are cultivated organically from seed and lovingly handpicked only at the peak of plump, ripe, juicy perfection.
2. The peppers are then carefully ground, fermented and bottled. We even place the labels on each and every bottle.
3. Because we operate on a small scale and are so popular, every bottle we make each year is sold. We take orders for the next season, so you know each and every bottle of RedCat Hot Sauce you get is FRESH!!

Interested in reading more about chile peppers?
Try these amazing books from

j

Capsicum - Capsicum Frutescens
Other Common Names: Aji Dulce, Cayenne, Cayenne Pepper, Chili Pepper, Chabai Achong, Filfil, Hungarian Pepper, Kirmizi Biber, La Chiao, Mexican Chili, Paprika, Peppers, Piment Doux, Pimiento, Red Pepper, Sweet Pepper, Capsicum frutescens
Range: Probably native of the Tropics, but the original habitat is obscure. China; Dominican Republic; Europe; Gabon; Haiti; Hawaii; India; Iraq; Malagasy; Malaya; Mexico; Mongolia; Panama; Philippines; Samoa; Spain; Tonga; Trinidad; Turkey; USA
Cayenne or Capsicum derives its name from the Greek, 'to bite,' in allusion to the hot pungent properties of the fruits and seeds. Cayenne pepper was introduced into Britain from India in 1548, and Gerard mentioned it as being cultivated in his time. The plant was described by Linnaeus under the name of C. frutescens proper. This species appeared in Miller's Garden Dictionary in 1771.
The dried fruit is a powerful local stimulant with no narcotic effect, it is most useful in atony of the intestines and stomach. It has proved efficacious in dilating blood vessels and thus relieving chronic congestion of people addicted to drink. It is sometimes used as a tonic and is said to be unequalled in warding off disease (probably due to the high vitamin C content).
Used externally, it is a strong rubefacient stimulating the circulation, aiding the removal of waste products and increasing the flow of nutrients to the tissues. It is applied as a cataplasm or linament. Cayenne also relieves painful muscle spasms in the shoulder, arm, and spine areas, bursitis, the pain of shingles, and the pain of diabetic neuropathy. It has also been powdered and placed inside socks as a traditional remedy for those prone to cold feet.
The fruit is also antihemorrhoidal, antirheumatic, antiseptic, carminative, diaphoretic, digestive, sialagogue and stomachic. These pungent fruited peppers are important in the tropics as gastrointestinal detoxicants and food preservatives.
The fruits contain 0.1 - 1.5% capsaicin. This substance stimulates the circulation and alters temperature regulation. Applied to the skin it desensitizes nerve endings and so has been used as a local anaesthetic. The seed contains capsicidins. These are thought to have antibiotic properties.
Fruit - raw or cooked. Very hot and normally used as a flavoring. The fruit can be dried and ground into a powder for use as a flavouring. The fruit is up to 7.5cm long and 1cm wide.
Seed - dried, ground and used as a pepper.
Leaves - cooked as a potherb.
Known Hazards: Although no reports have been seen for this species, many plants in this family produce toxins in their leaves. The sap of the plant can cause the skin to blister.